Hello from the Writing Cave, where I've been reading over my Dark Matters column, "In an Abandoned Country Church, 'Strange Goings-On'," published in The New York Times Book Review this past weekend.
If you haven't read it: take a peek. Sorry about the paywall. If you can't get in and want to read it, send me a note and I'll email you a pdf!
Here are a couple photos of the printed copy…
Last month, I made wild claims that I was going nowhere for the summer. But life is filled with surprises, and I ended up bringing my daughter to France to visit her grandparents. They went to Brittany, where my daughter is playing with her cousins, and I'm in Paris alone this week. Quelle chance!!
It has been a wonderfully strange experience being here, partially because it has been years since I've had this kind of solitude. I work in the mornings and then take long, ambling walks through the late afternoon streets of Paris. Sometimes, I will get lost in a quartier and simply go with it, following the streets past cafes and book shops, fromageries and boulangeries, boutiques and parks. I read in cafes and eat baguettes and cheese for lunch. It's really been an incredible respite.
Here I am on one of my walks. This was taken in the Tuileries, in front of the Roue de Paris.
I found a Chocolatier-Glacier-Confiserie in the neighborhood called À La Mère de Famille. Here's a tarte au citron I bought one afternoon after working.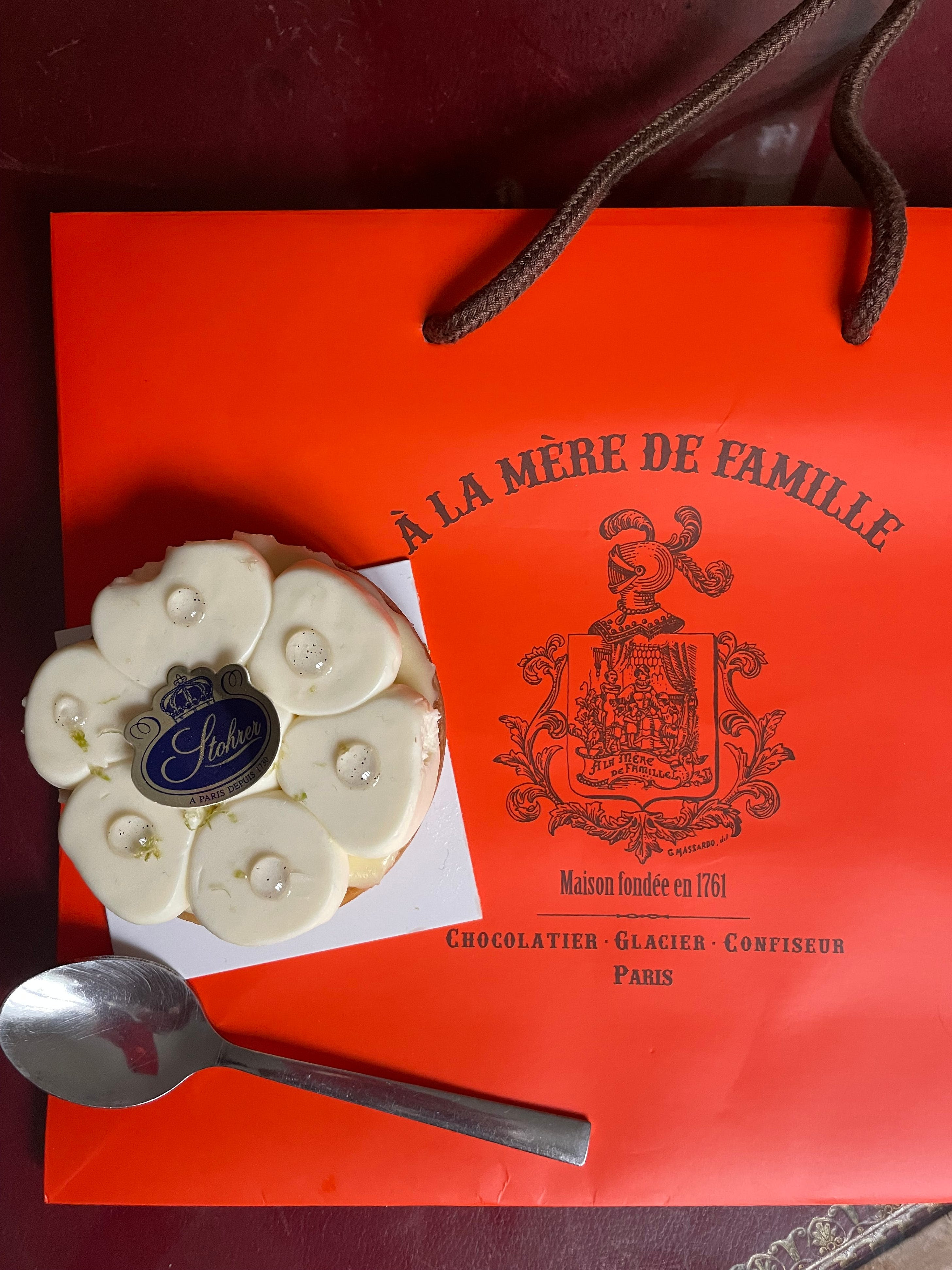 I went to the incredible Marché de Saxe on Saturday morning, where I met Olympia, who sells the best cheese from Auvergne.
She is an acquaintance of my father-in-law, and has read my novels (and reads this newsletter! Bonjour, Olympia!).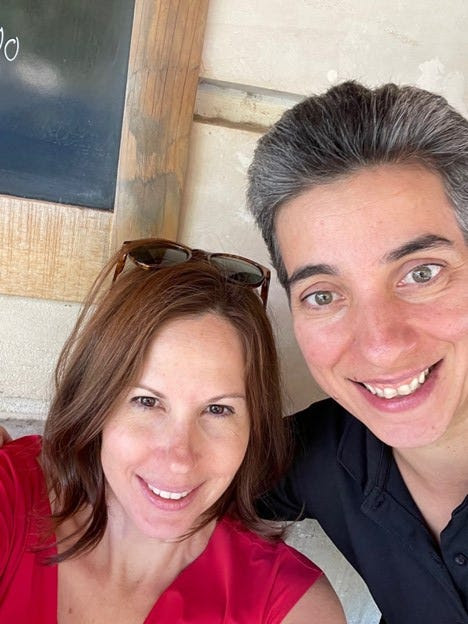 Whenever I'm traveling, I love to buy products I can't get at home. One is Marvis toothpaste. I love all of these flavors, especially the 'Jasmine Mint.'
Before I forget, I'm teaching a master class at The San Miguel Writers' Conference. This beginner-to-intermediate memoir workshop is called "How to Tell the Story of Your Life," and it runs on Monday, February 13 and Wednesday, February 15th in San Miguel de Allende, Mexico. To learn more, check out the workshop webpage.
Recommended Reading
Ann Mah's Jacqueline in Paris comes out in just a few weeks, so it's the perfect time to pre-order your copy. Evocative, sensitive, and rich in historic detail, this book portrays the origin story of an American icon: Jacqueline Bouvier Kennedy Onassis in her year abroad in Paris.
Further Reading
Readers and writing students often ask me about what I'm reading about books and literature. I'm excited to share a few recent articles to check out. Let me know what you think…
Looking for a nostalgic pastime?
"Rediscovering A Vanished Species: Half-Hour Tv Mysteries"
Dive into the world of the overlooked writer…
Get the full scoop on Salmon Rushdie's Attack…
"Free Speech Can't Survive as an Abstraction"
Are you in the loop on the book everyone's talking about?
"Jennette McCurdy's Memoir Is the Hit No One Was Ready For"
Diversify your TBR with these awesome titles…
"10 Books To Introduce Readers To Disability Literature"
Submission Opportunities
As a part of the low residency writing program at Salve Regina, I'm always on the lookout for submission opportunities for emerging writers. I know many of you are writers, and might be interested in sending out your work. Check out these select opportunities for getting your work published.
1) The Icarus Writing Collective
Dedicated to telling stories that retell, adapt, or transcend literary classics and mythology.
Length: Up to 5,000 words
Payment: $5
Deadline: October 15th, 2022
A steady outlet for crime, noir, and hard-boiled flash fiction.
Length: Up to 700 words
Payment: $15
Deadline: Rolling, opens today
3) PULP Literature's Raven Short Story Contest
For stories like ravens in the woods, swooping down on what catches the eye and brings the treasure.
Length: Up to 2,500 words
Payment: $300 ($20 entry fee)
Deadline: October 15th, 2022
Anything in the realm of mystery.
Length: 1,000-7,500 words
Payment: 2 cents per word
Deadline: Rolling
Stories of suspense, thriller, mystery, and horror.
Length: Up to 5,000 words
Payment: Unspecified
Deadline: Rolling
Q&A
Finally, I opened the floor to my friends on social media again this month to take any questions about my new books or the writing/reading/publishing world at large.
How do you feel about Artificial Intelligence writing poetry and prose? Some of it is not too bad!
This is a tricky question because I do think that writing is intimately tied up with a living breathing author. The development of an author's taste, skill, experiences, and so on feed into the work, and that is as interesting for me as the product itself.
That said, I embrace technology as an extension of the human mind and experience. AI was made by and is used by human beings, and the language that an AI program uses is also deeply human. So I think we can enjoy it, and experience language that is put together from an AI program, even if it was created by a machine.
Still, I would prefer to read novels and poetry by people, and experience the flaws, the erratic decisions, and the weirdness of human creation.
How has your life influenced your work?
In every way imaginable! My first book is a memoir, and I believe that I taught myself to write so that I could express what is in that book. Although my novels often have wildly imaginative elements, all of them are drawn from personal experiences. For example, ANGELOLOGY draws on elements of my upbringing and my experiences as an adult – religious questions, scholarly mysteries, my fascination with mythology, and so on. My novels often have settings in countries I've visited, and so my travels influence my fiction.
As always, a big thank you to everyone for spending the time with me here, on my website, and across Facebook, Twitter, and Instagram. My books wouldn't be possible without your support! Please stay in touch and let me know how you're doing.
Yours,
Danielle
Thanks for reading Danielle's Newsletter! Subscribe for free to receive new posts and support my work.
If you liked this post from Danielle's Newsletter, why not share it?
© 2022 Danielle Trussoni
548 Market Street PMB 72296, San Francisco, CA 94104
Unsubscribe